Royal Marines - Join the Regular and RMR Commandos
The First Sea Lord Admiral Sir Philip Jones confirms that the Royal Marines will be restructured to better balance a growing Royal Navy.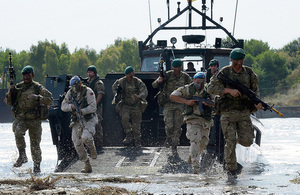 Various elements of 3 Commando Brigade Royal Marines as they conduct a Commando amphibious raid demonstration during Exercise Albanian Lion 14. Crown Copyright.
With billions being invested into a growing Royal Navy, the Royal Marines have decided to restructure to better balance skills across the force.
The move comes as part of the Navy's regular review of its structure to ensure that it suits the operational demands of the 21st century, and is appropriately balanced for the future with 400 more personnel, more ships, new aircraft carriers and submarines entering front line service.
Around half of the 200 roles being repurposed are backroom function roles, like drivers and administrative staff. Freeing these up to be carried out by Reservists and civilians will enable skills to be used more appropriately across the Navy.
The other half of the restructure comes as part of plans developed by 3 Commando Brigade, who are responsible for the deployment of the Marines, who decided it would be beneficial to the Corps to make 42 Commando a specialised Maritime Operations unit.
A Royal Marines Commando performs roles ranging from maritime operations like countering piracy and protecting our trade routes across the globe, to land-based...